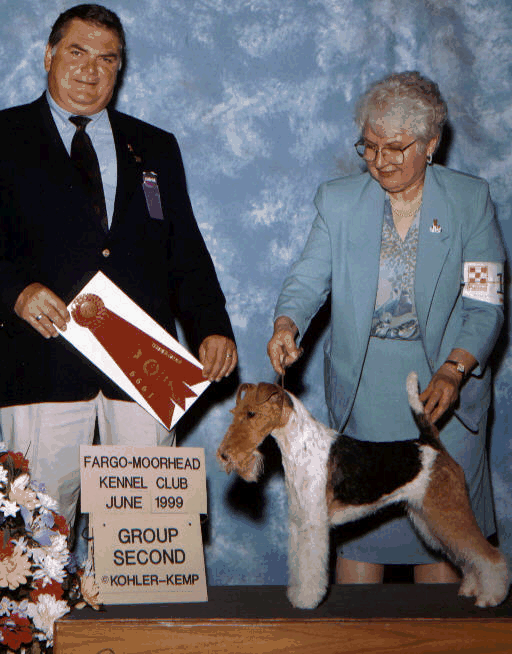 AMERICAN & CANADIAN CHAMPION BRIARLEA'S ARCTIC TWILIGHT
Twila was in the top ten wire fox terriers for 1999 with very limited showing. she had group wins and placements in both the US and Canada. She is sweet, playful and exceptionally obedient and loving. She is an exceptionally well-mannered dog. She asks for treats and says a thank you after receiving them. ( Yes, Wires can talk!) Twila is now retired and enjoying life as a foster mom to any puppies that stay around after their mom has given up on them. She plays and teaches the pups their manners and in between those duties, she keeps me company on the couch when I watch TV. Twila is pushing 14 but still enjoys life, especially is a treat is forthcoming


Please continue on to the next page.

Or return to our home page

BRIARLEA WIRE FOX TERRIERS

AMERICAN, INTERNATIONAL CHAMPION BRIARLEA'S JUST BE GOOD
Goodie finished her titles very quickly, winning her American championship with three majors and a group 3. She is almost all white and has a very pretty brown head with the white beard. Her coat is very much a wire coat, one of the best I have ever had. Goodie does live up to her name, since she is such a sweet dog, one could get the idea she is not a terrier. She gets along with everyone and really loves people. In her first litter of One, she spoiled her pup terribly. I hope she has a little bigger family when we breed her this spring.
American Champion, Grand Champion, International Champion Briarlea's Poison Ivy
Ivy did a great job in the show ring, finishing her titles in double quick time. She also earned a group one and a group 3 in the process and of course, that new title, a "grand Champion". She is a small girl, but very pretty and very opinionated and not afraid to tell everyone her ideas. We are planning to breed her this spring and while we have not settled on a daddy for her pups yet, I expect it may be a "ginger" boy.
American, Canadian, International Champion Briarlea's Forever
Amber V Jelson
Amber started her show career out with a bang as BW for a 5 point major at the St. Croix Valley Kennel Club show on a two specialty weekend when she was only one year old.
She has finished her American Championship and has since done great winning at the breed and group level. At the Indianhead Kennel club show in 2007, she won a Best in Show and in October she won First Award of Merit at the well-known Montgomery Kennel Club show. She has been in the top 10 in our breed in the USA for the last 3 years. She finished her Canadian Championship with 3 group ones and a Best in Show. She also finished her International Championship with three group ones and another Best in Show. She is now retiring to raise a few lovely puppies.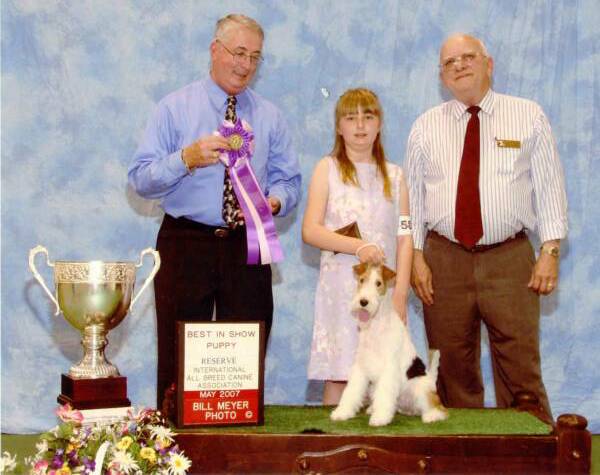 AMERICAN AND INTERNATIONAL CHAMPION BRIARLEA'S ZELDA
Zelda is a Briarlea Homebred wire and is owned by my Granddaughter Elyssa Erickson. This pup and Elyssa are really buddies and Elyssa, 10 years old at the time the top picture was taken, shows Zelda very well. Zelda was less than a year old when Elyssa won Reserve Best Puppy in show with her. She has since shown her to her International Champion and American Champion titles and is working on her Canadian Champion title. The second picture shows her winning a group 3 in Winnipeg Canada. Zelda is going to be out of the show ring for a while since she is planing on having puppies and doing a little obedience work with Elyssa.
American Champion Briarlea's T G I F
Also known as "Friday" as in "thank god it's friday!" Friday is co-owned,lives and is shown in both the breed ring and in Junior showmanship by Claire Anderson. Claire and Friday make a great team, having won many placements and Best Junior ribbons in addition to finishing Friday to her AKC Championship. Friday is now living and having a great time on Claire's parents couch, just marking time until Claire gets home from college.