BRIARLEA  WIRE FOX TERRIERS

OUR BOYS: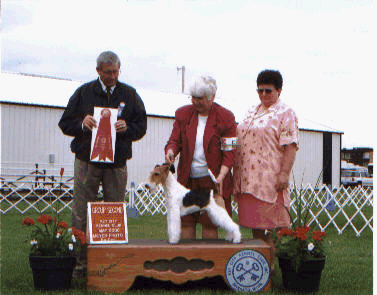 AMERICAN, CANADIAN, INTERNATIONAL CHAMPION COVENTRY'S TRISTAN AT BRIARLEA

Tristan finished with group placements in both the United States and Canada with limited showing.  Ending his show career by being in the top ten in the breed, he is now living with his owner and has taken over her couch.  He is friendly, energetic, but also loves to laze around chewing on a large bone..preferably sweetened up peanut butter.

AMERICAN CHAMPION BRIARLEA'S GHOSTRIDER

Casper finished his Championship quickly winning with all majors in tough competition. His kids tend to inherit his lovely, sound ,and well muscled body with great movement. In temperament , he is a very friendly ghost indeed, as are most of his kids.  Casper is back home at Briarlea, enjoying our lovely Minnesota weather after his long vacation in Saskatewan, Canada.  At age 15 Casper still acts like a youngster and can play with the best of them.

Please continue on to the next page.

Or return to our home page

aAMERICAN, CANADIAN, INTERNATIONAL CHAMPION BRIARLEA'S PENDRAGON

Arthur finished his titles with group placements and his first weekend out as a special, he earned two Best of Breeds and a group 2 .He was in the top 20 wires in the Eukanuba system.  A Proven sire, his offspring are doing well in the show ring, with two champions in Canada. His daughter, Can. Ch. Briarlea's Vixen V Shadowfrost has won numerious best puppy in show and a Best in Show in Canada. Another daughter is soon to finish in Texas.  Arthur also is a very laid back wire, playful but calm.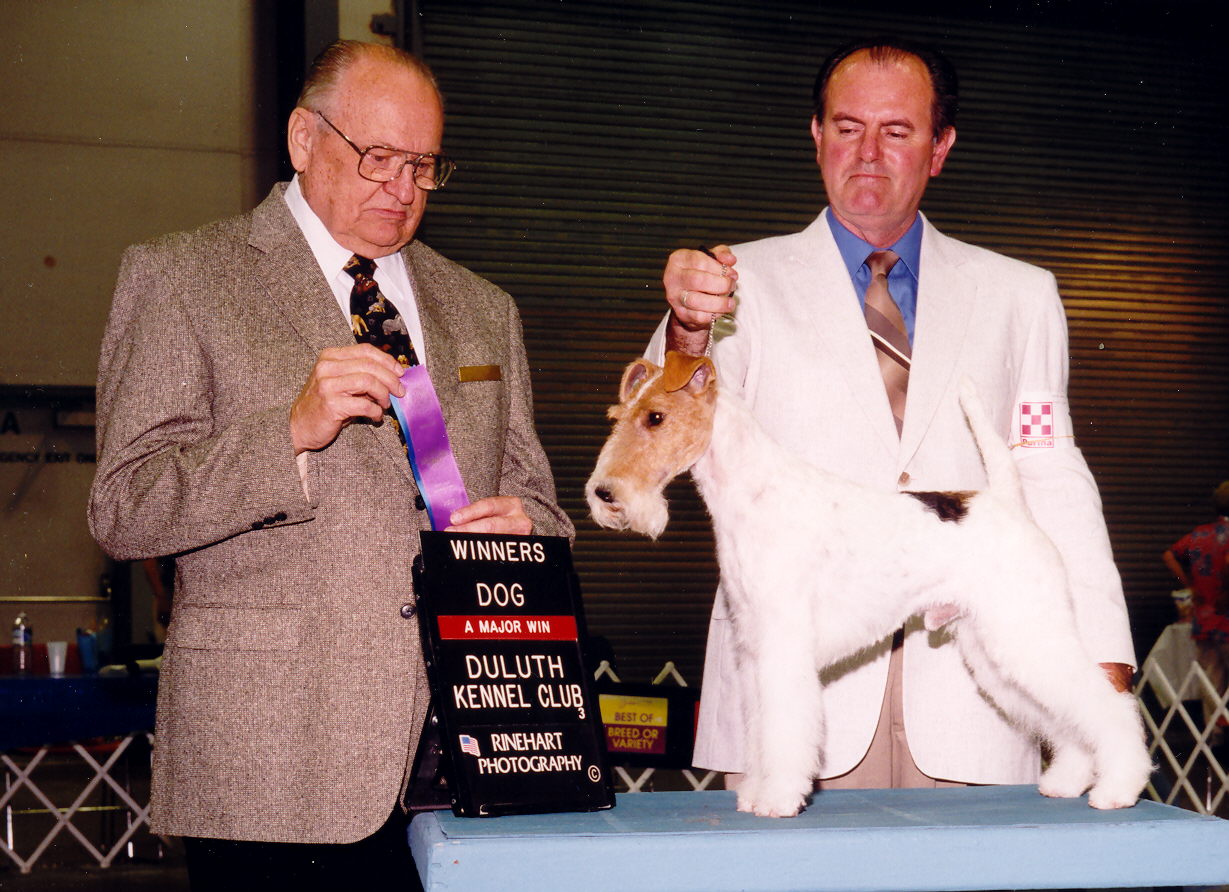 Champion Briarlea's Clean Sweep

Kirby, bred by Briarlea, owned and shown by Steve and Pam Baribeau  finished in 2003.  He is now at home with Steve and Pam and his playmate, Butter, who bully's him terribly. He knows she is just a girl, so he is a gentleman and lets her get away with everything. A fun dog, who just happens to be a champion.

AMERICAN, CANADIAN, INTERNATIONAL CHAMPION TALISMAN DE LA BARRIERE ROUGE
"Tally" was imported from France at the age of 3 months and grew up here, learning a new language and meeting new friends. He finished his titles quickly with BOB wins over specials and a Specialty Best of Winners. He has a lovely body and the great movement that goes with well laid back shoulders and a rear to match. His tail set is really great as is his personality. His favorite pastime is "playing" with anything and everything. We expect his kids to do well here in the states. A well mannered dog who is sensible and calm, while still being that energetic wire that we love. His kids are inheriting that lovely "laid back" attitude and his love for people. He is now living in Canada with Pat Garling and having fun with her wires. We expect he will be siring some really nice puppies there.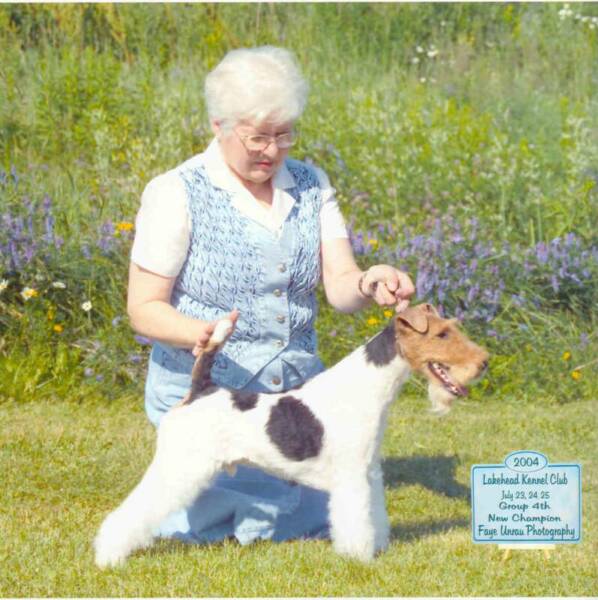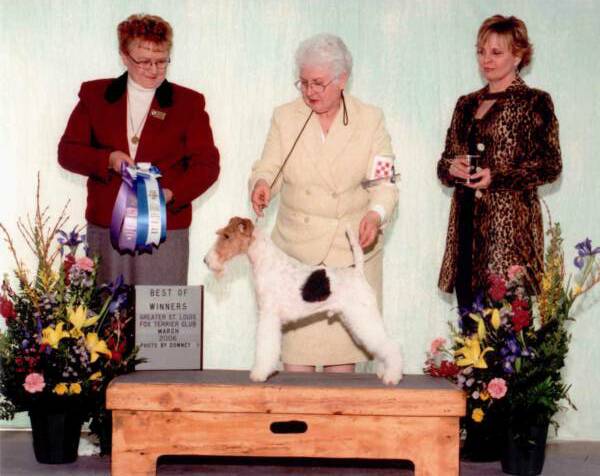 AMERICAN CHAMPION BRIARLEA'S CHASIN' THE WIND

Chase finished his championship on a specialty weekend with winner's dog and best of winners ribbons. He is a lovely short backed good moving male with a fun loving personality. He really does think that the world is his oyster! He enjoys playing with toys, especially when he has a girl to keep him company. He really doesn't mind that they get a little bossy.  He is now retired and enjoying life at "Briarlea".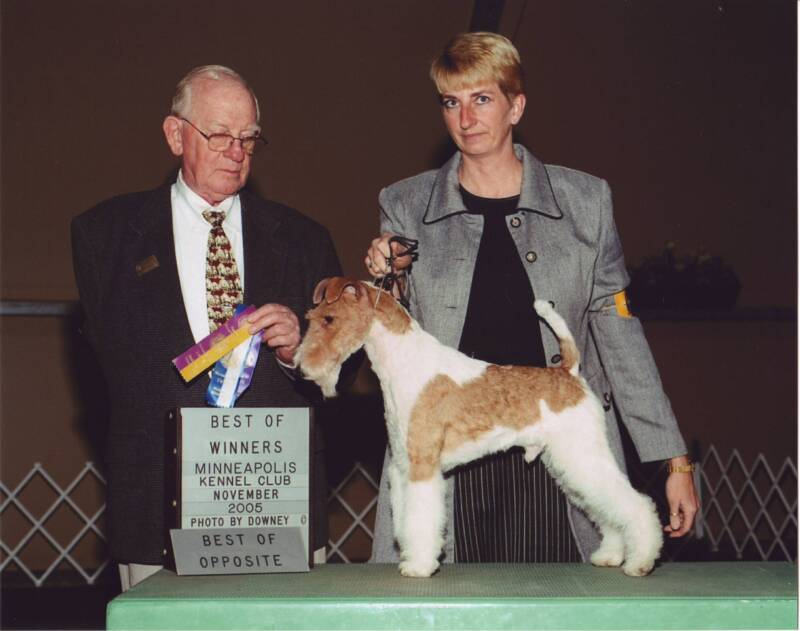 AMERICAN CANADIAN CHAMPION JELSON'S BOY GENIUS V BRIARLEA

Dexter is a ginger wire and is Amber's litter brother. He and his sister Amber finished on the same day at the same show, something that does not happen often. Dexter lives with his co-breeders and owners Mike and Donna Johnson in Fargo. We are really proud that this young boy is now making his mark in agility, obedience and rally.